Cyber Security Strategy
Announcing PerimeterX Bot Defender with Google Cloud Security Command Center
Bot attacks are problematic as both the volume and sophistication of attacks continue to rise. Approaches that rely on the rate of attack, blacklists and static threat signatures are increasingly less effective as bot threats are quick to morph, leaving site owners with thousands or millions of old threat profiles and increasing difficulty in identifying new ones.
PerimeterX Bot Defender is an easy-to-deploy and highly scalable product that protects web and mobile applications and APIs from automated attacks. Website owners face ever increasing threats, including content or price scraping bots that steal content, methodical scans for any site vulnerabilities, brute-force attacks for logins or commerce, and click fraud wasting your advertising budget.
Earlier this year Google Cloud released the Google Cloud Security Command Center (Cloud SCC). PerimeterX is proud to have Bot Defender be one of the first Web App Security solutions available on Cloud SCC, which helps GCP users manage threats across services like App Engine, BigQuery, Cloud Storage and Compute Engine. Cloud SCC helps security teams gather data, identify threats, and act on them before they result in business damage or loss.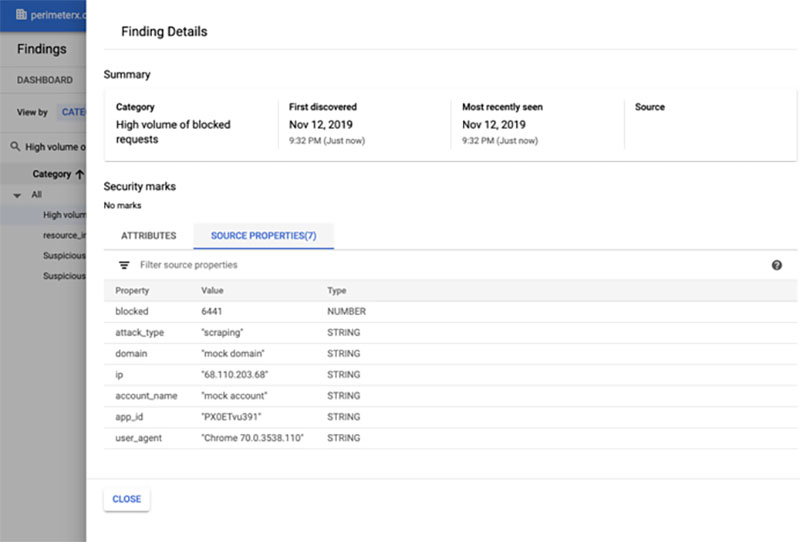 PerimeterX Bot Defender displaying blocked requests alert details on Google Cloud Security Command Center dashboard.
To learn more visit the PerimeterX Bot Defender offering on Google Cloud Marketplace. To learn more about the Google Cloud Security Command Center, visit the website or read the GA announcement.