Bot Protection
Inside the Wild World of Sneaker Bots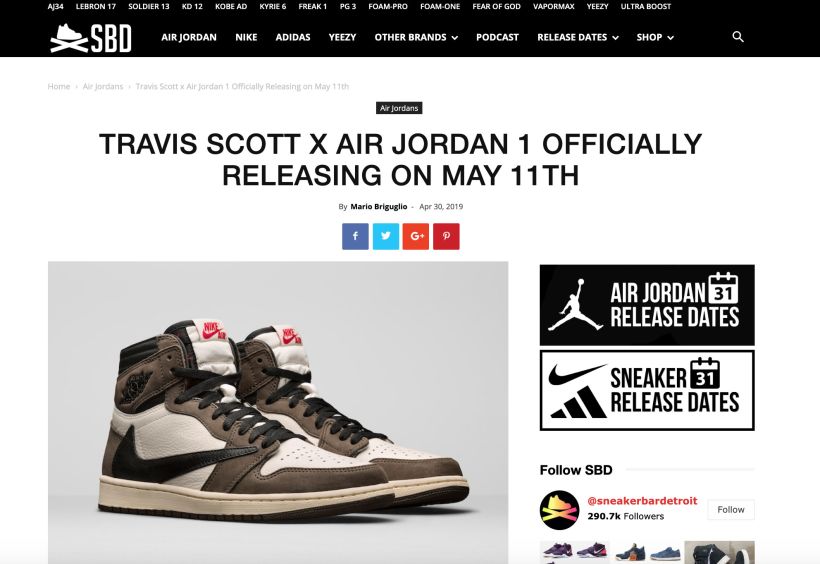 Travis Scott Air Jordan
On April 30, 2019, leading sneaker news site Detroit Sneaker Bar reported that Nike would be releasing the Travis Scott X Air Jordan 1 on May 11. Rated as the most anticipated sneaker release of 2019 by SneakerNews, the shoe was listed with a retail price of $175. But everyone involved in the sneaker market understood what an incredibly difficult challenge getting the shoe at this price would be. By October 2019, the TS AJ OG 1 was being resold on the sneaker reseller Stadium Goods for over $900.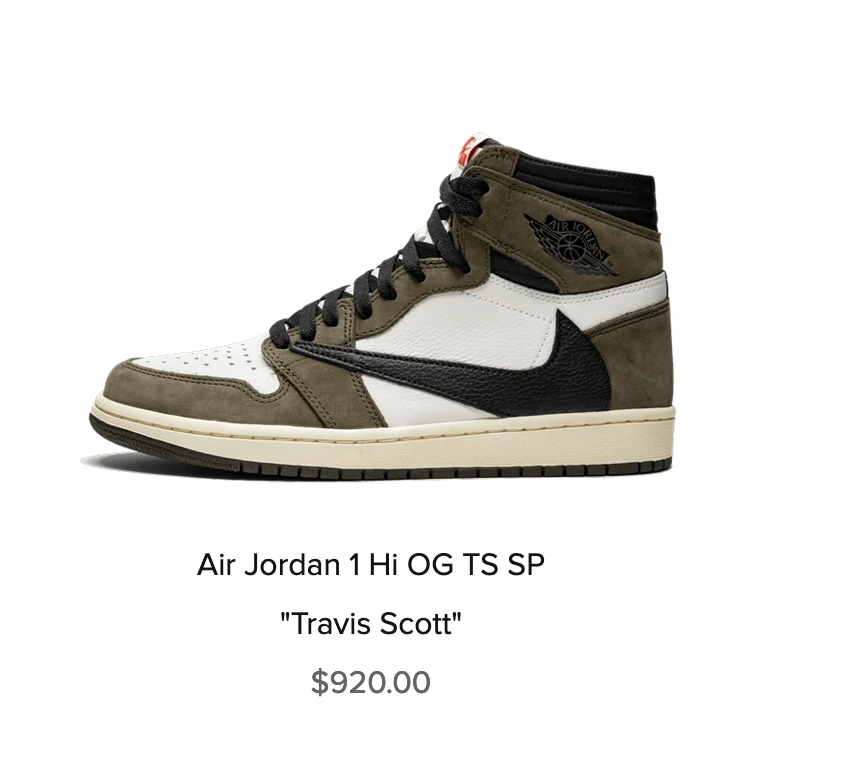 Elsewhere online, the shoe was selling for $750, $800 or even $1500.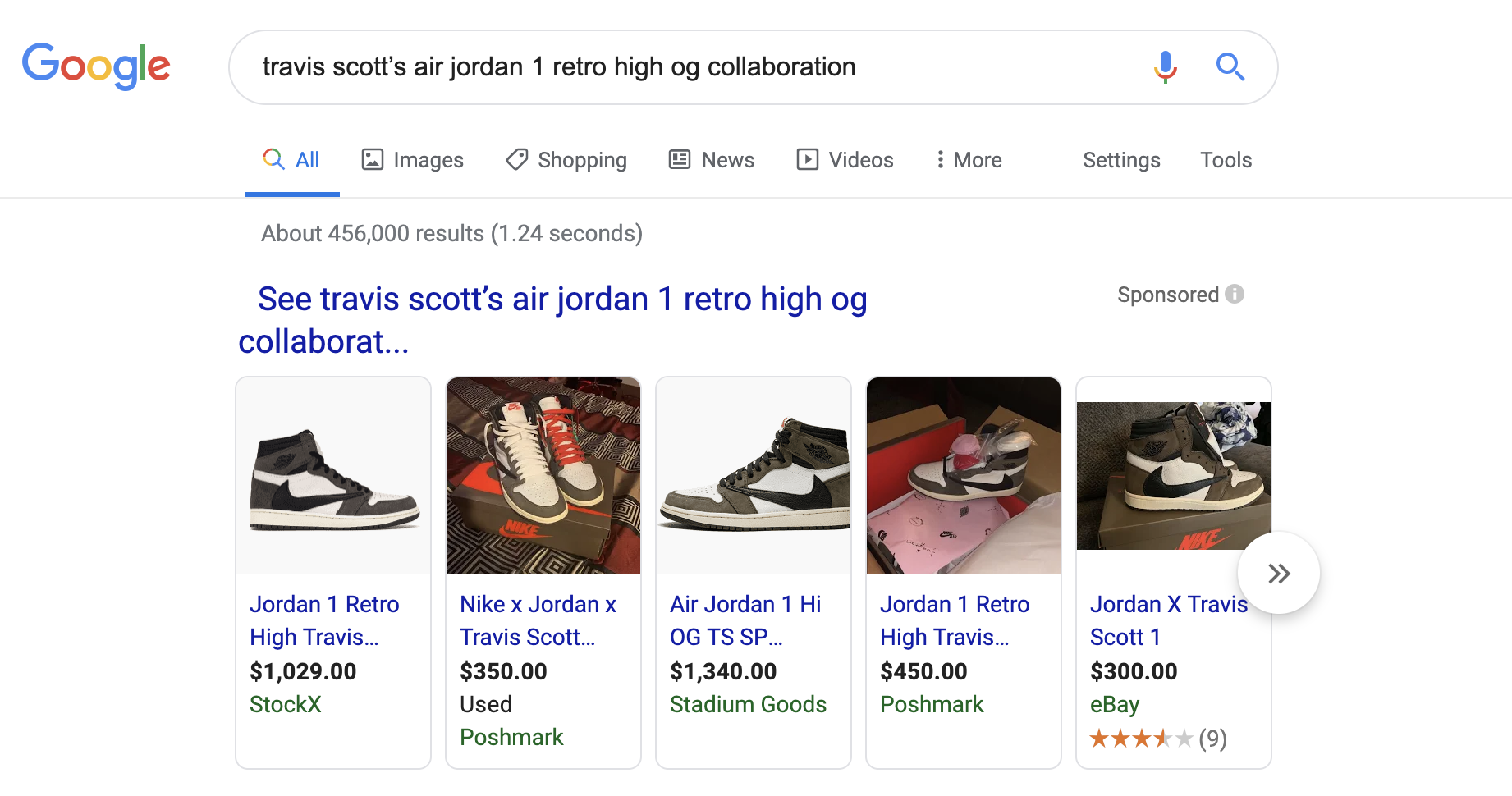 Shoppers who were able to buy a Travis Scott AJ OG at list price could have potentially pocketed $1,000 by reselling the shoe on the open market. This explains why those seeking to purchase one of the shoes a mere 15 minutes after its release could have landed on a "sold out" message. Some fortunate buyers were able to score a pair by repeatedly banging on their buy button and getting lucky. Increasingly, however, the race to buy hot sneakers is a technology arms race.
Serious sneakerheads and sneaker resellers are tapping a growing array of technology tools to gain an unfair advantage and buy up as many pairs of low supply, high-demand kicks as possible. These tools are quickly evolving and improving in a constant cat-and-mouse game between the sneaker retailers and these aggressive resellers in what has become a $42 billion global market for selling and reselling sneakers. In fact, when the most sought-after sneakers drop online, traffic to the sites and those pushing the "buy" button are mostly bots.
What Sneakers Mean Today
Sneakers, and shoes more broadly, have always been more than just a piece of clothing or a good that carries value. According to The Atlantic, "...since its invention in the 19th century, the footwear has been about much more than athletics—conveying ideas about national identity, class, race, and other forms of social meaning." Modern sneakerheads often treat the shoes as works of art rather than as functional items; once a pair of valuable sneakers are worn, their value tends to decline quickly (unless the wearer was, say, LeBron James or another famous person). This ascendance of fashion to art explains why the market for sneakers behaves more like the art market, where scarcity is the norm, than a typical retail goods market.
Like the art market, too, speculation and arbitrage drive a massive secondary economy worth billions in sales. And where there is money, people will seek to gain advantage. More recently, the secondary market for sneakers has exploded due to the rise of sites that actually treat shoes like stocks. StockX gives shoes individual tickers and posts buy and sell offer spreads, just like the New York Stock Exchange. This has led to some strange things happening. The sneaker reseller giant GOAT claimed it had sold more pairs of Yeezy's than the maker of the shoes, Adidas. The reason is due to shoes now being resold multiple times per year like actual shares.
Unlike stocks, however, sneakers offer the ability to make an instant gain without incurring any real risk. Hot shoe releases are well publicized in advance and sneaker news sites post lists of which online stores are selling the shoes.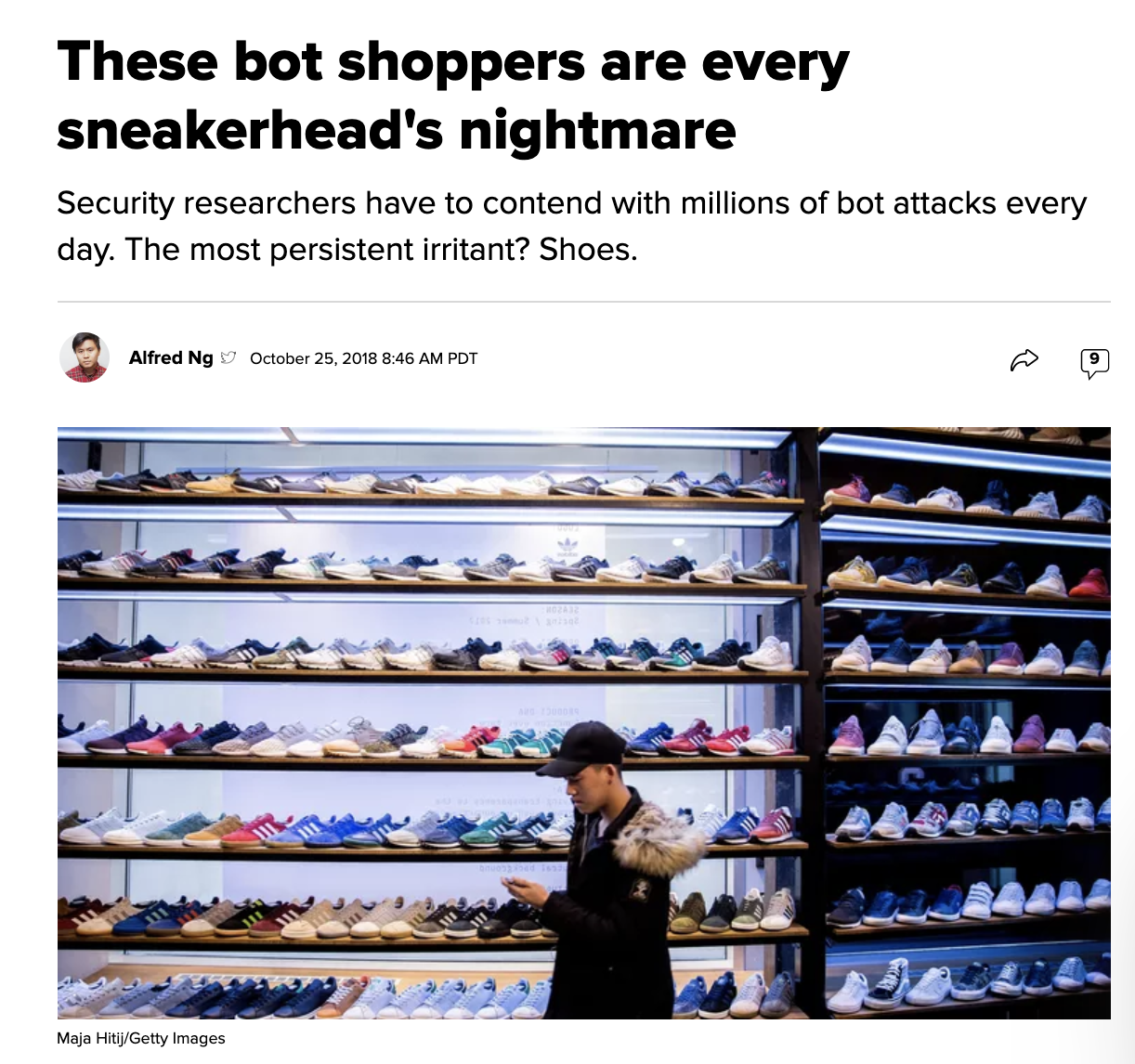 The Rise of Sneaker Bots
The roots of the sneaker craze can be traced back to the 1980s when limited edition streetwear and sneakers grew in popularity. Aficionados pitched tents overnight outside stores selling limited edition pairs. Back then, buyers often proudly wore their shoes out after purchasing them. In the late 1990s, with the rise of the Internet and reseller platforms like eBay, a rich secondary market emerged. Almost immediately, people started trying to sell shoes online for a lot more than the retail price.
Realizing that there was a market opportunity, hackers began creating early tools of the trade. These included scrapers, to assist in capturing shoe price and inventory information, and simple buyer bots. These early bots were no more than automated click-bots, with a simple workflow that repeatedly added a shoe to a shopping cart and pressed the buy button. They quickly gained popularity and acceptance. Soon it was easy to buy these tech tools online, where they were sold openly and even advertised on the growing number of sites covering shoe culture and sneaker releases.
The sneaker bot arsenal has expanded to make it harder to detect and block the bot operators. In 2016, we published a research blog about sneaker bots and the tools and methods they use. In the last few years bots have grown even more sophisticated, including the development of capabilities to solve CAPTCHA challenges which are designed to block out bots. Some bot developers have gone as far as offering proxy services that use IP addresses from residential broadband Internet providers to trick bot-blockers into thinking that a shopper is a real human rather than an automated system. What's more, the sneaker tools are designed for anyone to use. Many require little technical ability and are no more complicated than using a web browser or making a purchase on a standard e-commerce site.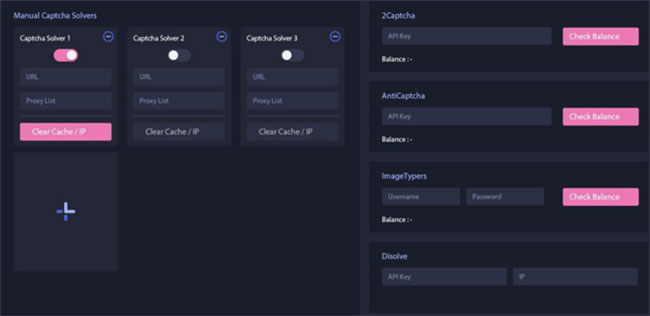 There are clear losers in the online sneaker wars. Average customers who try to buy the shoes online the old fashioned way without tech help have a rapidly diminishing chance of getting in on the action. This is understandably frustrating. For their part, the sneaker brands and creators of the limited edition sneakers dislike when their shoes are kept out of the hands of average shoppers and are instantly snapped up and marked up - usually to prices way beyond the reach of average shoppers.
And some are fighting back in creative ways. Online skate shop Berrics Canteen set a trap for bots seeking to buy the Nike SB x Concepts "Purple Lobster" by listing the price as $10,000 and noting on the product page that the purchase would enter the buyer in a lottery for the shoe and that all sales were final. Sure enough, an aggressive sneaker bot fell for the trap, resulting in a panicked email exchange with Berrics Canteen's manager (he graciously refunded the money after the incident went viral on Instagram). For their part, Nike and Adidas are increasingly allowing online shoppers to enter a lottery for hot shoes, rather than allowing them to buy directly. In response, sneaker buyers are using bots to enter the lottery multiple times with multiple identities, continuing the cat-and-mouse game.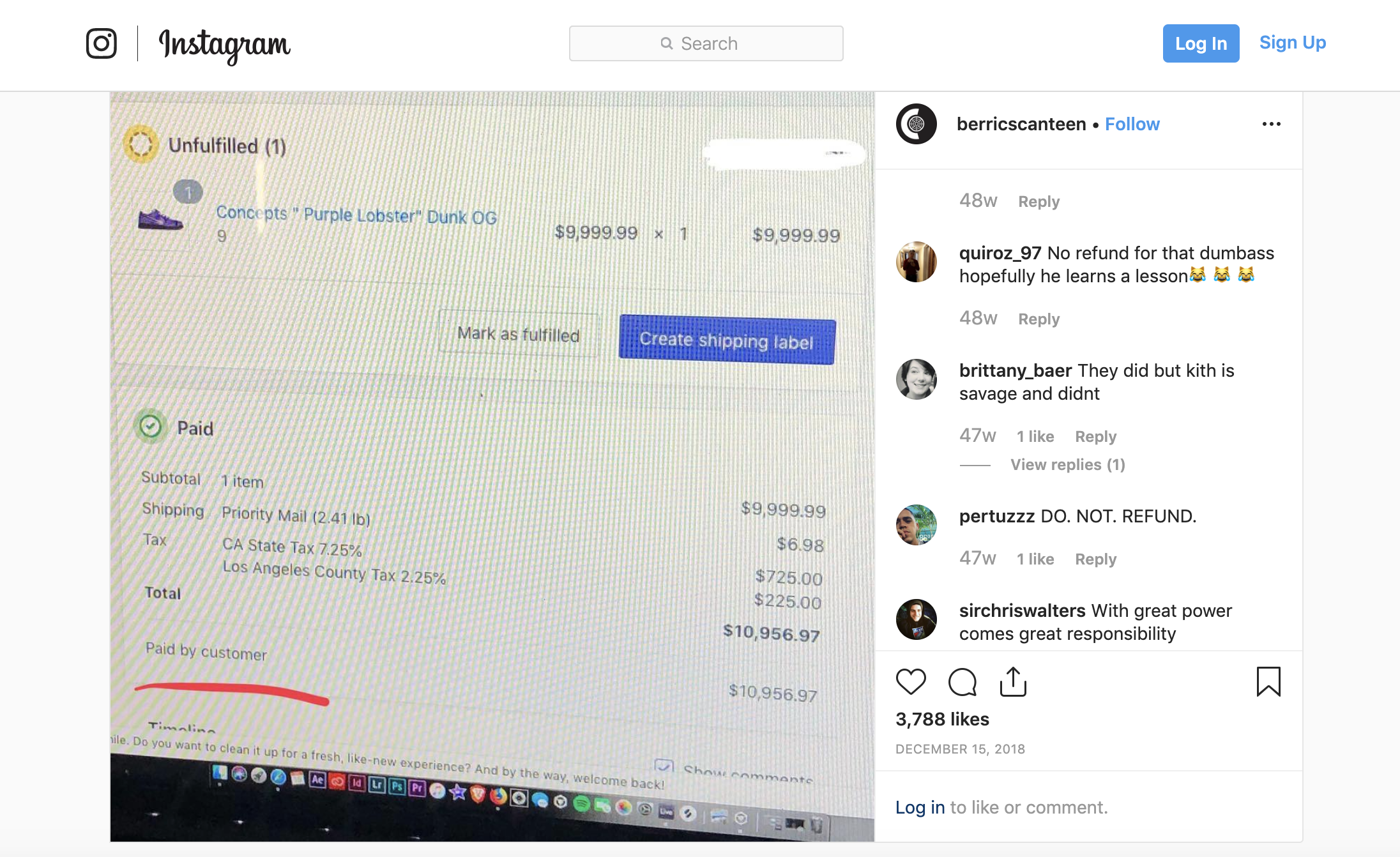 Low Risks, Easy Money Fuel Sneaker Bot Craze
All of this being said, there is nothing illegal about buying sneakers with bots. While the U.S. Congress has passed the BOTS Act of 2016 to address purchasing and reselling concert or event tickets with bots, no such coverage has been extended to shoes. With sneaker bots, too, the chances of success are much higher than with other bot attack vectors.
In contrast to sneaker bot attacks, to execute a single account takeover (ATO) of a valid user, a bot operator would need to execute thousands of attempts and set up a fairly complex and extensive cloud infrastructure for the campaign. The hacked account could then be sold on the Dark Web for $20 to $40 - far less than the profit yielded by a single sneaker resale. The ATO attack is illegal and, if detected and prosecuted, could result in real jail time or blocking the malicious bot operator from international travel and having international bank accounts.
Contrast the world of ATO, where risks are high and rewards are low, with the world of sneaker bots, where this is reversed. This low risk and high reward combination also explains why the sneaker bot tools market operates in the open much like regular software markets and the economic and business incentives powering the sneaker bot. In fact, competition for customers is fierce and prices competitive. A sneaker bot user can spend less than $500 per year for a full suite of tools to assist their online purchasing behavior. And many of the products have slick User Interfaces one would expect to find with consumer-grade or highly-polished B2B software products.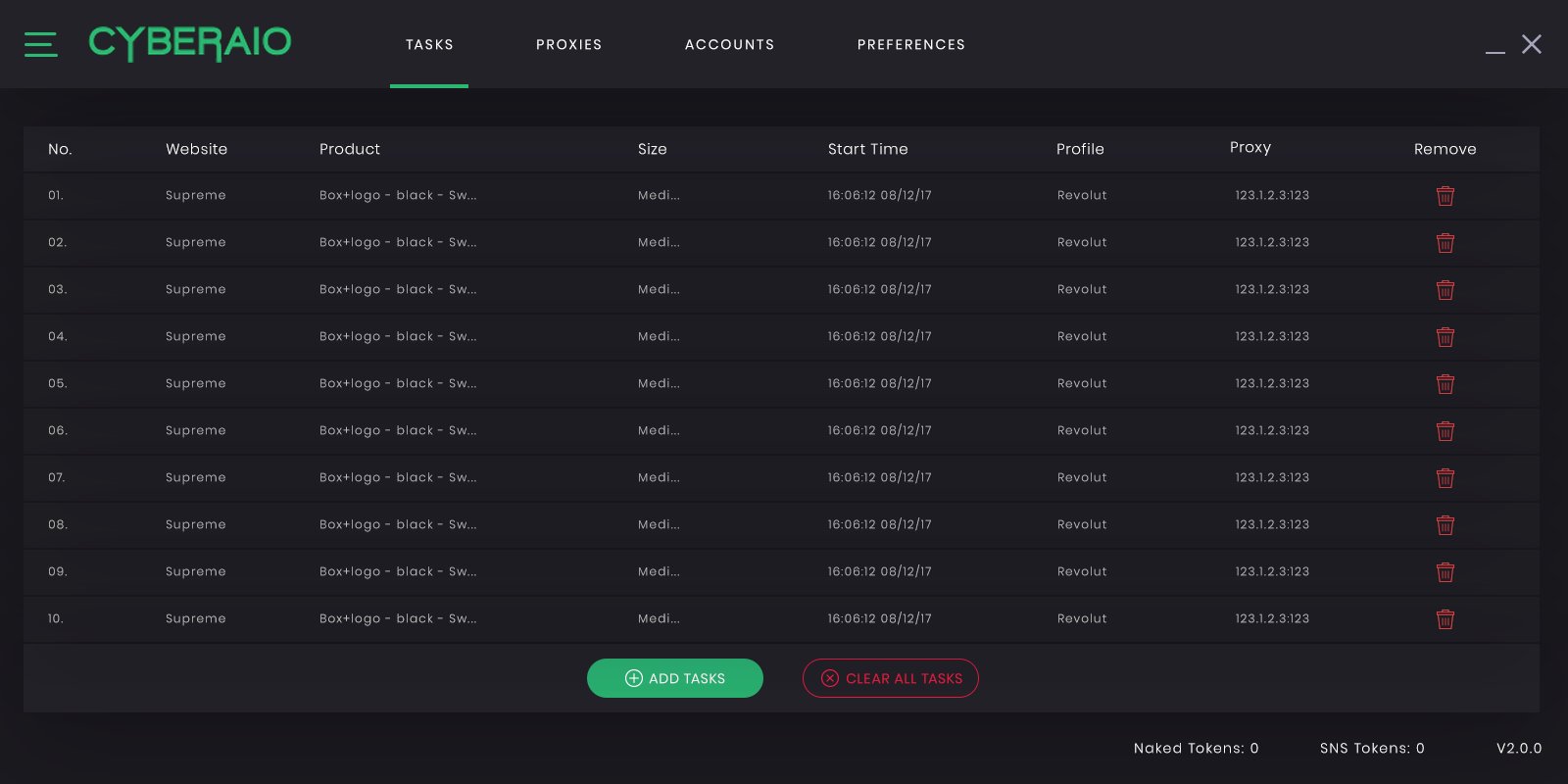 The end result? A never-ending war between sneaker buyers and their bots against the brands and stores. As a provider of services to mitigate unwanted bots from scraping prices, automating sneaker shopping, and duping retailers into thinking they are selling to a human, we have a front-row seat at the Sneaker Wars.
In our next blog, we'll expand more on the tools and tricks of sneakers bots, how sneakers bot attacks work, and their consequences on businesses.