Cyber Security Strategy
A Best Place to Work: Employees Say Why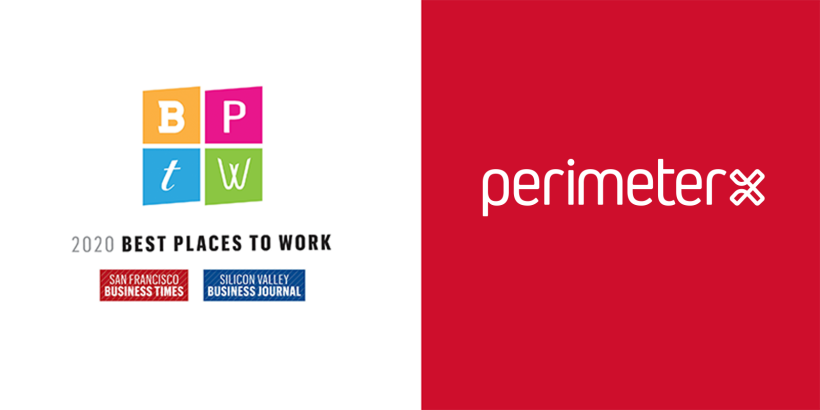 The San Francisco Business Times has named PerimeterX one of the Best Places to Work in the Bay Area in 2020, and we are thrilled and deeply honored by this recognition. Since its founding, the core values of PerimeterX have included putting customers first, celebrating wins as a team and working collaboratively across all levels and departments. These values have proven to be critical as we introduce new products, expand our workforce and navigate the market landscape. This recognition from the SF Business Times serves as a validation of how inspired our employees are to contribute their ideas, support customers and achieve goals together.
To shed some light on our internal culture, individuals from across departments at PerimeterX have shared their thoughts on what makes our organization a Best Place to Work.
Elad Koren, VP of Products
"In the past year, PerimeterX has grown rapidly, adding talented people and broadening our horizons. What makes PerimeterX so great is that every employee here is empowered to lead us to better products, explore new technologies and keep us in the lead. Being a part of this journey allows all of us here to wake up every morning knowing we are improving the digital experience of millions around the world, and making the digital world a better place."
Chris Fiorino, Senior Customer Success Engineer
"This time last year, we had just moved to our freshly remodeled office with much more space, better views and a coveted ping pong table. I love getting to work with thoughtful coworkers that enjoy taking on difficult problems and protecting our customers. Our products and teams have matured over the last year and were validated by a number of awards for both our solution and the service we provide to our customers. Being part of a winning company that continues to grow has been a rewarding experience. I get to see firsthand how a company navigates challenges and feel that I am making a difference."
Gina Chen, VP of Demand Marketing
"Whether it's delighting customers or developing employees, PerimeterX puts people first. The company provides a diverse, multicultural and inclusive environment where people are valued. I believe PerimeterX continues to be successful in business because people want to be a part of it. The team continues to deliver amazing products and services for our customers because we enjoy working together and strive to be the best at what we do."
Steve Ericson, Director of Global Sales
"I have been with PerimeterX for over 2.5 years and it has been amazing to witness the business continue to evolve to stay at the forefront of the market in an ever-changing threat landscape. As an organization, we have added key individuals with strong industry expertise who exemplify an entrepreneurial culture. I am privileged to be a part of an organization whose leadership truly cares about the welfare of its employees and supports our personal development."
We're humbled by this recognition by the San Francisco Business Times and will use it as a reminder to maintain our culture—as a team.