Application Security
Frost & Sullivan Honors PerimeterX with 2020 Best Practices Award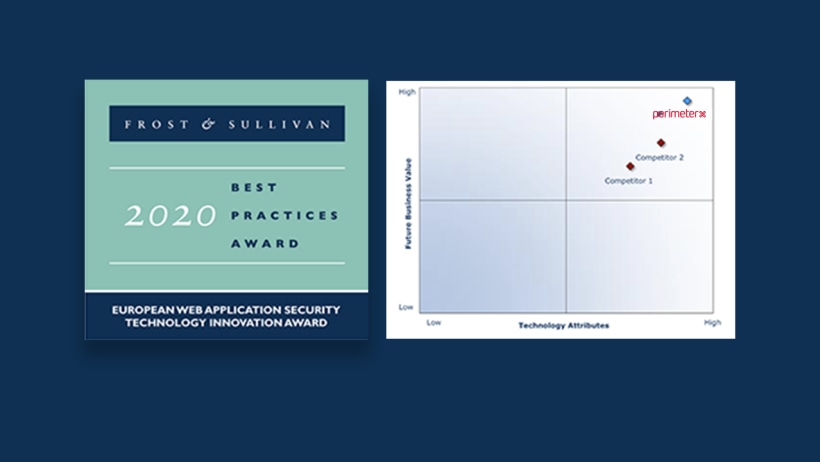 Independent research and consulting firm Frost & Sullivan has recognized PerimeterX with the 2020 Best Practices Award for Web Application Security Technology Innovation. The organization's decision comes following a thorough review of the PerimeterX Platform and its impact on business performance and forward-thinking protection.
Frost & Sullivan's Best Practices Awards recognize companies in a variety of regional and global markets for demonstrating outstanding achievement and superior performance in areas such as leadership, technological innovation, customer service and strategic product development. Industry analysts compare market participants and measure performance through in-depth interviews, analysis and extensive secondary research in order to identify best practices.
The firm's evaluation of PerimeterX was based on ten criteria across technology attributes and future business value. These criteria included industry impact, product impact, scalability, visionary innovation, application diversity, financial performance, customer acquisition, technology licensing, brand loyalty and human capital. Frost & Sullivan's full report on these best practices places PerimeterX at the top of its class among other security tools and solutions, with high ratings in technology attributes and future business value.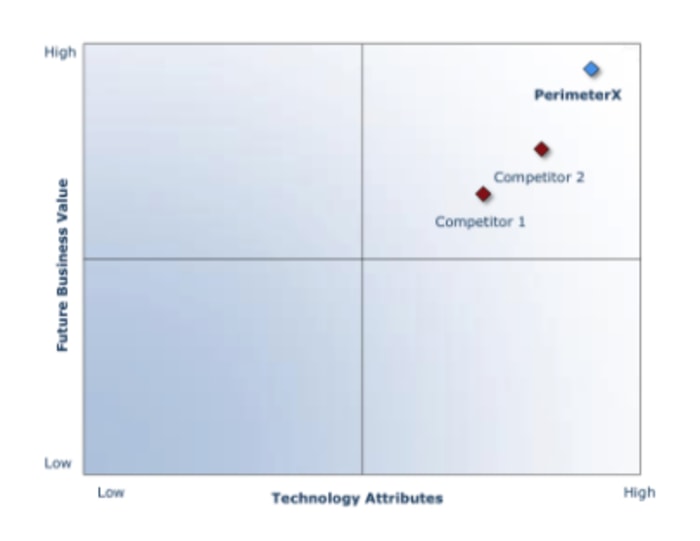 Frost & Sullivan's report further highlights the impact of PerimeterX solutions on protecting web applications and e-commerce businesses to keep their user experiences and revenues secure. It provides an in-depth analysis on the business value of web application security, background and performance highlights of the PerimeterX Platform, and best practices for protection. From web apps and mobile apps APIs, Frost & Sullivan acknowledges the PerimeterX approach to protection while preserving seamless functionality.
With DevOps teams being increasingly forced to accelerate application development and add functionality, sometimes at the expense of application security testing, data security can sometimes be an afterthought. This often leads to teams resorting to open source code to save time. Since DevSecOps teams can't always review source code before it's pushed live, this leaves an open door to security threats. To address this, the PerimeterX team takes a holistic approach to appsec by combining three security solutions under a single Platform. These SaaS security solutions mitigate risks including bots, browser-based threats, and malicious third-party code that can lead to attacks such as cross-site scripting (XSS) and Magecart. Using machine learning algorithms, PerimeterX solutions profile automated threats in real time, protect sensitive data from third-party code exfiltration, and secure user experience within one seamless cloud security solution. The PerimeterX Platform integrates easily into digital businesses' tech stack and proactively detects and manages security risks, so companies can focus on building their digital businesses rather than mitigating security flaws.
"PerimeterX has realized the importance of maximizing infrastructure performance while keeping unwanted elements out," according to the report. "PerimeterX offers one of the most complete solution suites in the industry, allowing for a secure browsing experience for users and greater visibility for site owners."
For more information, read the full report from Frost & Sullivan recognizing PerimeterX and naming the top threats that the company addresses in e-commerce.