Digital Skimming and Magecart
PerimeterX Awarded Gold for Best Magecart Protection by the 2020 Cybersecurity Excellence Awards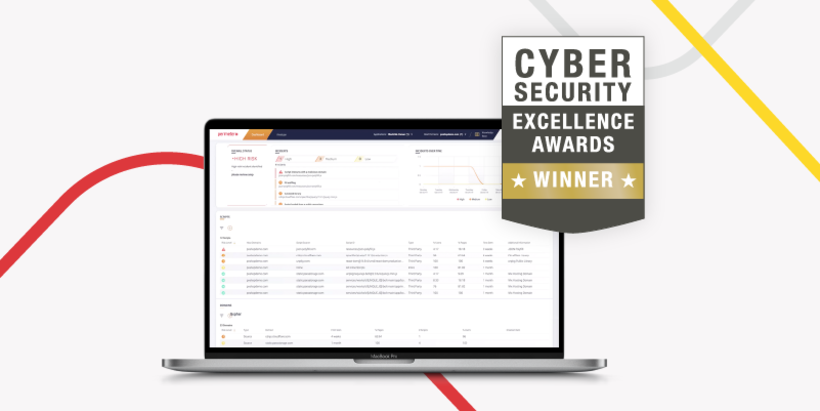 The 2020 Cybersecurity Excellence Awards have named PerimeterX Code Defender a winner of the Gold award for Best Magecart Protection. This comes less than a year after the launch of Code Defender, validating its position as the premier solution for client-side protection against Magecart and digital skimming attacks, formjacking and personally identifiable information (PII) harvesting for web and mobile applications.
Magecart and digital skimming attacks are some of the fastest growing and most elusive attack types on e-commerce websites and mobile applications. These attacks skim PII such as payment card information and cause considerable brand damage and risk of compliance penalties. Attacks have impacted major brands like Procter & Gamble's First Aid Beauty, Delta Airlines and British Airways, but every e-commerce website is susceptible. The average cost of a data breach to a modern company is over $3.5 million. This cost pales in comparison to British Airways, who faced a GDPR fine of over $220 million. As the logic of web code moves to the front end, attackers are taking advantage of the increased attack surface on the client side. Industry estimates state that about 70% of website front-end code consists of third-party scripts or scripts from third-party libraries, creating an easy target for attackers.
PerimeterX Code Defender proactively detects client-side threats in web and mobile applications. It tracks and monitors behavior and changes in scripts across the entire website supply chain in real time, leveraging advanced machine learning models to detect anomalies that could result in data exfiltration. Code Defender protects customers' from attackers trying to exploit client-side vulnerabilities to harvest their data and sell it on the dark web, which ultimately damages brand reputation. Acknowledgement from the Cybersecurity Excellence Awards so early in the product's lifecycle is a testament to the necessity of the solution in today's digital world and the value that it brings to customers.
"Congratulations to PerimeterX for being recognized as the Gold award winner in the Magecart Protection category of the 2020 Cybersecurity Excellence Awards," said Holger Schulze, CEO of Cybersecurity Insiders and founder of the 400,000-member Information Security Community on LinkedIn that jointly produce the awards program. "With over 500 entries in more than 90 award categories, the 2020 awards are highly competitive and all winners truly reflect the very best in today's cybersecurity industry."
The Cybersecurity Excellence Awards is an independent awards program that honors companies and individuals that demonstrate excellence, innovation and leadership in information security. Each year, it is produced in cooperation with the Information Security Community on LinkedIn, leveraging the experience of hundreds of thousands of cybersecurity professionals to recognize the world's best products, individuals and organizations in cybersecurity.
PerimeterX received additional recognition, earning Gold awards for Bot Defense and Fraud Protection, as well as Silver awards for Retail Solution and Most Innovative Cybersecurity Company.
Learn more about PerimeterX Code Defender here.