Application Security
The New Battleground is Digital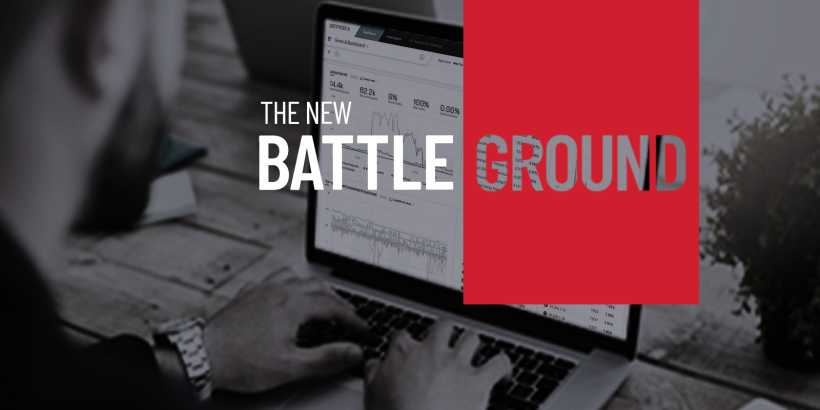 E-commerce Traffic and Threats are Surging
I've talked previously about the digital landscape evolving, but I don't think anyone could've predicted the changes we've seen to the digital world since the beginning of March. Due to the COVID-19 pandemic, many common in-person interactions have gone online - meeting, shopping, learning, exercising! Unfortunately, so too have criminals.
PerimeterX data shows that e-commerce traffic is up broadly, and so are attacks. At a time when people are relying on e-commerce more than ever, we find ourselves more vulnerable than ever. Unbeknown to the average consumer, their personally identifiable information (PII) is at risk. Danger lurks behind every laptop screen and mobile checkout page.
A New Campaign for a New World
We've been working on a new campaign for PerimeterX for several months, even before the pandemic took over our daily lives. We debated whether it was the right time to launch the campaign and decided that it makes more sense to highlight the challenges now than it did before COVID-19. So today, we're introducing a new campaign to highlight what consumers and online businesses are facing. We call it "The New Battleground."
Here's the idea behind it:
These days, what appears to be business as usual is anything but. Because bubbling under the surface of everyday digital business, a battle is raging. One involving bots, malware, malicious code and bunk browser extensions.
What's more, businesses, and their customers alike, may have no idea that the battle is raging right behind their screens. This campaign points out that the new battleground of digital business is happening in front of our eyes, and behind our screens.
Simple online interactions to buy daily necessities bring risk. A bot could be using your information in an account takeover (ATO) attack right now to buy a gift card or a high demand item that can be quickly turned into cash. A threat actor could be skimming your PII from your favorite food delivery site and monetizing it on the dark web. Or, you might be seeing distracting ads when you visit your go-to grocery site, ads that are getting in your way of completing your purchase and getting on with your day.
But rather than incite fear, we want this campaign to bring promise. Promise that digital enterprises can stop bad bots, find vulnerable and malicious third party code, and eliminate unwanted NSFW ads. Promise that consumers can shop and interact online with confidence, today and into the future. Promise.
Take a look at the video introducing the campaign and let me know @kim_decarlis what you think!