Bot Protection
How Retailers Navigate Through Unpredictability And New Risks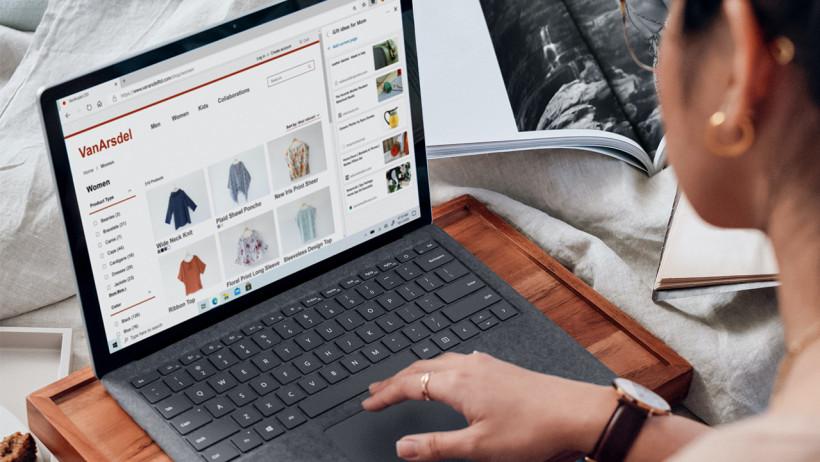 Over the past year, the retail industry has increased its focus on online shopping and adapted to increasing levels of digital traffic, shifts in customer behavior and cyberthreats such as account takeover, web scraping, denial of inventory and scalping attacks. In a recent panel, PerimeterX hosted Jenna Posner, VP of Digital at SNIPES, Quentyn Taylor, Director of Information Security at Canon Europe and Beth Moriarty, VP of Marketing at Yottaa, a PerimeterX partner to share insights on how leading e-commerce retailers are responding to these three key trends. Watch the full webinar here.
Increased Levels of Digital Traffic
Consumers spent $861.12 billion online with U.S. merchants in 2020, up an incredible 44.0% year over year, according to Digital Commerce 360 estimates. That's the highest annual U.S. e-commerce growth in the past two decades and nearly triple the 15.1% jump in 2019. More transactions means more opportunities for malicious activity.
How has your business adapted to the increase in digital traffic this past year and how has this impacted your plans looking forward?
Jenna Posner: The retail industry has been really impressive over the past year, looking at not only customer expectations, but demands within the climate that we're living in and knowing that we have to make these investments and changes in order to survive. We are seeing about three times our normal traffic. One of the things we've done to help manage that traffic on the frontend is to use PerimeterX to make sure that traffic is not bot activity — it's humans coming to our site.
Quentyn Taylor: There's been a massive increase in traffic. People were already shopping very heavily online. I don't think they're going to be going back to shopping in-store so much. Especially with consumer electronics, it's a lot easier to do comparative shopping and purchase online.

Shifts in Customer Behavior
PerimeterX data shows that US shoppers spent 72.5 billion dollars on buy-online-pickup-in-store (BOPIS) or click and collect, which was a 107% growth rate over previous years.
What are you doing to meet the new consumer expectations and behaviors?
Jenna: We came to market with a new website last year. We saw that the average order value of consumers that were buying online and shipping to store was about 27% higher than the average in-store purchase. So we've really doubled down. We're in the process of implementing BOPIS and reserve-online-pick-up-in-store (ROPIS). We are converting online but also leveraging these omnichannel strategies to grow in-store conversions and retain customers long-term.
These omnichannel initiatives are allowing us to really connect the dots between the physical store and the e-commerce experience, and leveraging things like e-receipt and data captured from that to inform online marketing and retargeting.
Beth Moriarty: One of the things that really jumps out at us is the additional technologies and investments that brands are making. So whether it's for BOPIS, ROPIS or personalization, it's really broadening the tech stack. We've seen over the last year a 24% increase in adding third-party technologies to the sites.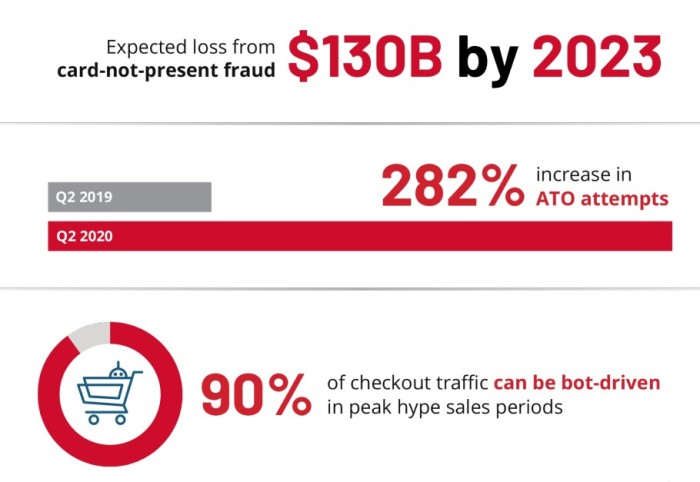 New Risks to the Digital Storefront
With new opportunities comes new risk. In the past year, as website traffic increased, account takeover attempts increased by 282% and carding attacks have also increased with an expected loss from card-not-present fraud of $130B by 2023. Retailers are having to improve their security posture to manage this new risk profile to ensure their customer data is safe and protect their brand reputation.
What risks has your digital forefront been facing and how are you staying proactive to make sure that your business and your shoppers are safe?
Quentyn: Where there's money, there's criminality...with high-value goods, criminals are realizing there are significant profits to be made.
Jenna: You mentioned brand reputation too. You don't want to be known as a streetwear company that is right through the middle with bot transactions. If consumers feel like they can't come to our site and get hot products, they're not going to come to our site. And if we can't service them, we can't acquire them and we can't re-market and re-target them. It's a problem for everyone in our industry, and it's something that we continue to mitigate against. So we work with PerimeterX. We have a strategic relationship with Salesforce Commerce Cloud. We have digital queuing systems and we have a stack content delivery network with Yottaa.
Moving Forward
The past year has seen a significant increase in digital traffic and shifts in customer behavior to retail e-commerce websites and mobile apps. While this has provided opportunities for retailers to increase their online revenue, it also introduced new risks. It's in retailers' best interest to invest in a solution that can protect their digital storefront from home page to checkout.
Watch the "How Retailers Navigate Through Unpredictability And New Risks" webinar here.