Bot Protection
PerimeterX Human Challenge Now Default Option for Bot Defender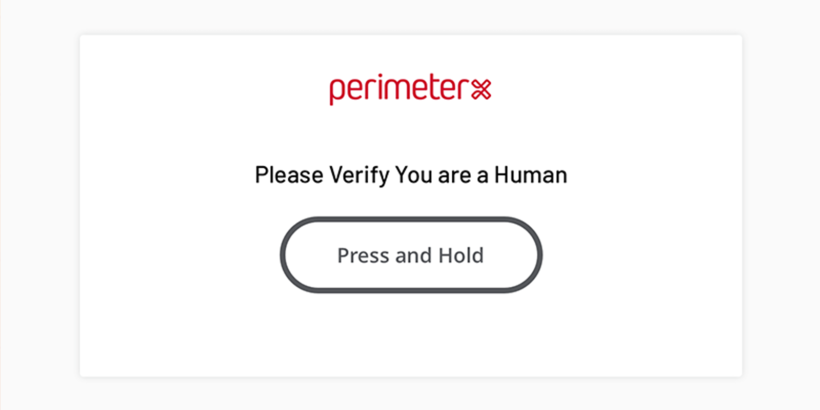 We're making online user verification less challenging and more human, to help you reduce abandonment and improve conversions.
Every user has at some point struggled to convince a web application that they are a human and not a bot. From finding all the bicycles in a grid of photos or deciphering number and letter patterns buried in 3D grids or turning a seal to face upwards on a ball, challenges designed to verify that a live person is trying to access a web application have grown too...challenging.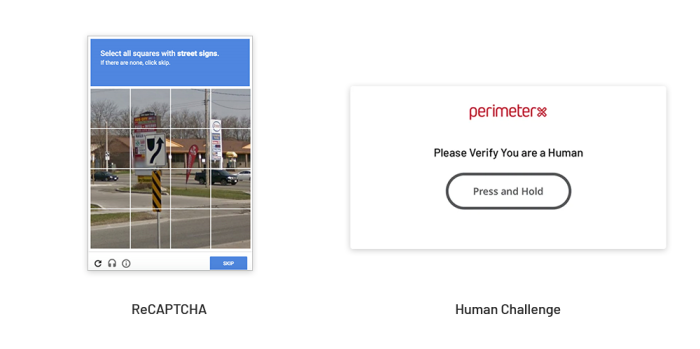 Figure: reCAPTCHA vs. Human Challenge
Even worse, automated bots have gotten better than humans at solving these challenges. Machine learning and computer vision algorithms are improving much faster than human eyesight and that has allowed smart programmers to design automated CAPTCHA solvers that outperform people on certain types of challenges. In addition, some botnets have also built in calls to human CAPTCHA farms that feed the challenges to online workers. Well practiced in the art of challenges because they do them all day long, these workers solve CAPTCHAs for a fraction of a penny.
Introducing PerimeterX Human Challenge
At PerimeterX we recognized the need for improving detection while maintaining a great User Experience. No one likes to stop and identify stoplights or buses when they are trying to do something online. Spinning the ball to make the seal go up is annoying when you are in a hurry — especially on a mobile device. To improve on this situation, PerimeterX created Human Challenge. This is the first user-friendly verification that protects web and mobile applications from CAPTCHA-solving bots and CAPTCHA farms while also improving the customer's experience in the application.
By collecting additional in-depth behavioral data about the user, Human Challenge detects and blocks CAPTCHA solving bots, whether they use automated or manual methods. You can see an example of how Human Challenge works in the figure above. The simplicity is obvious. The user is asked to PRESS AND HOLD. Yet, that simple action tells PerimeterX everything we need to know to determine with a high degree of accuracy whether a human or a bot is solving the challenge. Equally important, the challenge can also determine whether the bot has requested help from a human CAPTCHA farmer by measuring the time it takes to respond to the challenge and other tell-tale data points in the user's interaction.
In a nutshell, Human Challenge leverages PerimeterX machine-learning-based technology and advanced threat research expertise to reduce the risk of attacks that utilize CAPTCHA-solving bots. The challenge is tested and proven on billions of interactions and users. Because PerimeterX Bot Defender can predict whether a user is a bot or a human with a high degree of accuracy, a challenge is presented to only 1 in 10,000 users, or less than 0.01%. With Bot Defender and Human Challenge together, the users' experience will dramatically improve. Those facing a challenge will be able to solve it within seconds, while actually improving your security. This acceleration and simplification of the user experience will reduce your abandonment rate and customer complaints. Fewer people leaving their path to purchase means you will boost revenues and retention. For customers using Human Challenge, solve times were 4 to 6 times faster than what we were seeing with reCAPTCHA. Abandonment rates were 3 to 5 times lower than for reCAPTCHA, as you can see from the figure below.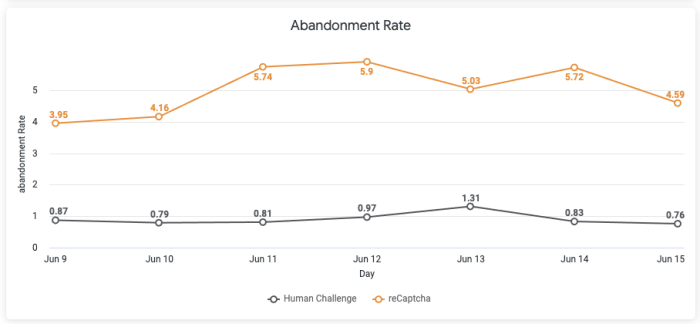 Figure: Solve times are faster, abandonment rates are lower
Why We Made Human Challenge Default
Since its initial introduction back in June, 2020, we included Human Challenge as an option but made Google reCAPTCHA our default challenge solution for Bot Defender customers. Recently, Google changed their terms of service for reCAPTCHA which was a catalyst for us to make our own challenge technology the default option for Bot Defender. Thus far, our customers have been delighted and have seen strong benefits of a more user-friendly challenge system — including higher conversions, lower abandonment rates and fewer customer complaints.
At PerimeterX, our priority and our passion is to make web applications as secure as possible by blocking automated fraud attacks and client side threats. User verification is an important part of this and shouldn't be left to solutions like reCAPTCHA that don't ensure a great user experience. If you wish to learn more about Human Challenge and Bot Defender, please contact us for a detailed demo and consultation. We believe your customers will thank you for it.