Bot Protection
The Dirty (Half) Dozen E-commerce Pitfalls to Avoid: 2021 Holiday Edition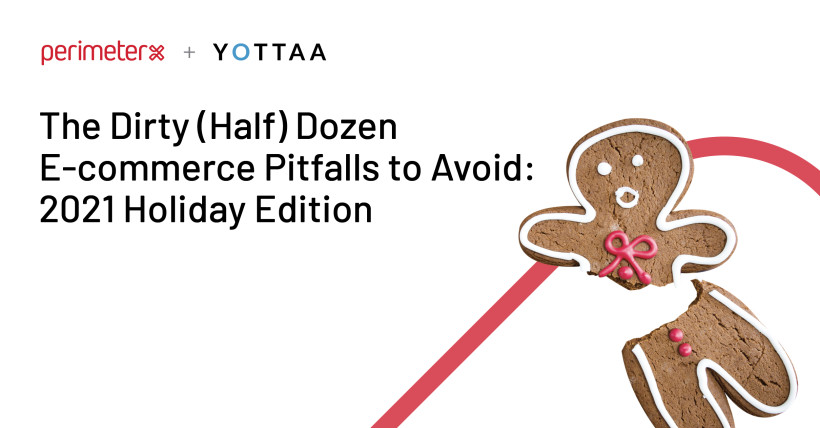 Account takeover (ATO) attempts, carding, checkout abuse, site performance issues, web scraping and bad, bad bots: Isn't it supposed to be the most wonderful time of the year?
According to the PerimeterX Automated Fraud Benchmark Report, malicious login attempts peaked at 84.71% in September 2020. This is the likely result of criminals trying to put a damper on the holiday season by testing login credentials and passwords in preparation for broader attacks against multiple web applications during Cyber 5 — the period between Thanksgiving and Cyber Monday. However, with some good planning, your e-commerce site can strike a balance between security and a friction-free digital experience during the holiday shopping season by implementing a few tactics to ensure holiday readiness.
Here are the Dirty (Half) Dozen pitfalls to consider as you plan:
Bad Bots: Stop bot-driven fraud by learning to identify the good from the bad, and the humans from bots. Businesses must go beyond simple functions like configurable allow lists and deny lists to advanced policy controls for more granular control over bots.
Verification Speed Bumps: Many businesses verify a shopper's humanity with CAPTCHAs, which are slow, often inaccurate and interruptive. Wise digital businesses will remove barriers between speedy verification and checkout — without foregoing security and bad bot detection
Mobile Threats: Cybercriminals often deploy bots that target APIs used to support mobile storefronts. Mobile SDKs tend to be less capable of identifying and thwarting bots than average desktop JavaScript sensors, potentially making m-commerce shoppers more vulnerable.
Site Traffic Spikes: Isn't more traffic a good thing? Yes, unless your site isn't ready for it. High traffic levels are known to cause site performance issues, so brands must take the time to prepare and load test their sites.
Slow Pages: The standards for e-commerce site performance are higher than ever, and unfortunately, people are unforgiving when it comes to a poor shopping experience. They won't wait longer than three seconds for a page to load, and many won't return if your site is too slow.
Third-party Tech Additions: These technologies are a great way to provide customers with the shopping experience they need, but you must protect against errors and site performance issues. Conduct an analysis so you know where you stand before the season begins.
Download The Dirty (Half) Dozen E-commerce Pitfalls to Avoid: 2021 Holiday Edition to ensure your digital storefront is secured from homepage to checkout and ready to roll for the Cyber 5 shopping season.