Bot Protection
The Web App Security Holiday Reading List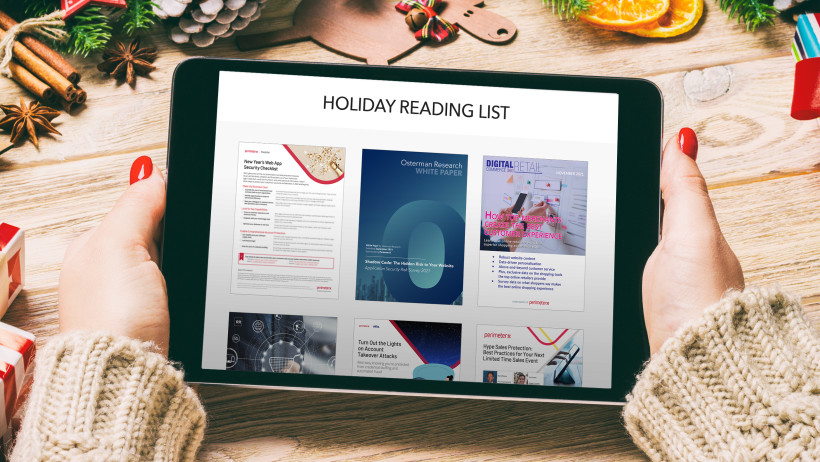 The holiday season is upon us. That means time off work to spend with family and friends, sharing delicious meals and enjoying some good old fashioned merriment — so don't let cyberthreats steal your holiday cheer. Discover how you can stop automated fraud and client-side threats all year round with this holiday reading list.
For when you're unboxing the decorations…
The holiday season is upon us. And there's so much to do! Fortunately, DC360 is making it easier for online businesses to know what steps to take to protect their holiday sales. Read the report to get started.
For when you're booking holiday travel…
There will be an increase in travel in the coming weeks, as family and friends visit one another for the holidays. Get the e-book to discover the cyberthreats that travel and hospitality businesses should watch out for during the holidays and beyond.
For when you're making your list and checking it twice…
There are lights to hang, meals to cook, cards to write, presents to wrap — the list goes on. Keeping a checklist is crucial to ensure the holidays go smoothly. Similarly, following this web app security checklist will help ensure that 2022 goes smoothly for your online business.
For when you've found the perfect gift…
Want to buy a highly coveted item online? Let's hope a grinch bot doesn't snatch it up first. Watch the on-demand webinar to find out how to protect your hype sales events and ensure that real customers, not bots, are able to purchase your limited edition products.
For when you're at a holiday party…
In an effort to improve site performance, developers may add third-party code to your web app without going through the appropriate security reviews — similar to how you might sneak a little extra brandy into the eggnog. But unlike holiday libations, vulnerable third-party code can leave you at risk for digital skimming and Magecart attacks. Get the report from Osterman Research to learn about this hidden risk.
For when you're sitting by the fire…
Whether it's in your fireplace or on the yule log channel, relaxing by the fire is the perfect end to a long winter's day. Dealing with account fraud, not so much. Get the e-book to learn how to stop account takeover attacks from burning your brand reputation and revenue, so you can enjoy a cozy evening.
For when you're calculating how much the gifts will cost…
Although each holiday item might seem like a minor expense, it can add up by the end of the season. Just like how automated fraud has a material impact on e-commerce merchants every year. Get the report from Aberdeen Research to uncover exactly how much bad bots negatively impact e-commerce profitability.
Settle into the holiday season
Just like when Scrooge finally discovers the meaning of the holidays, we hope this reading list opens your eyes to the many ways you can safeguard your web and mobile apps from automated fraud and client-side threats during the holiday season and beyond. 'Tis the season for security and business leaders to recognize that online fraud is a material threat to e-commerce brands. Only by taking a comprehensive approach to cybersecurity can you protect the integrity of your users' accounts everywhere along their digital journey, fighting fraud at every turn.
Want to celebrate the holidays with PerimeterX? Click here to book a free demo.