Bot Protection
PerimeterX Named a Leader in the Forrester Wave™: Bot Management, Q2 2022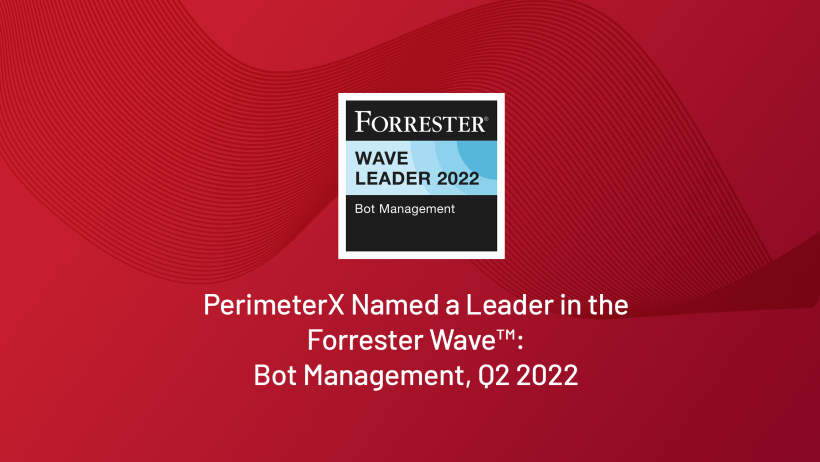 I am thrilled to share that PerimeterX has been named a Leader in the Forrester Wave™: Bot Management, Q2 2022. This exciting milestone comes on the heels of many other pieces of recognition for the company's growth and market leadership by analyst firms. And I have to say, I'm even more excited this time around.
Each time we've been recognized has been a defining milestone in the history and growth of PerimeterX. Each one felt like a symbol of everything we have been working towards since we launched the company in 2014: validation that PerimeterX provides real value to our customers and stands at the forefront of the bot management space.
Yet, I knew that there was still more value we could add: enhanced capabilities, richer reporting and more robust integrations. I believe this recognition as a "Leader" is a testament to the work the PerimeterX team has done to continually innovate for our customers and to achieve our vision of protecting the apps that power our daily lives. And the product is only getting better.
Current Bot Management Landscape
Forrester evaluated 15 vendors in the bot management market on various criteria related to current offering, strategy and market presence. The firm gave PerimeterX the highest ratings possible in 10 criteria, including range of supported use cases, response types, response configuration, out-of-the-box reports, customizable reports and dashboards, security feedback loops, innovation roadmap, planned enhancements, execution roadmap and market approach. In the evaluation, Forrester named PerimeterX a Leader in the bot management space.
The recognition as a Leader makes me incredibly proud of where our product stands today. PerimeterX Bot Defender takes a behavior-based approach to detect and block bad bots across web and mobile apps and APIs with unparalleled accuracy. The solution integrates with any existing infrastructure, scales on demand and is accompanied by a proactive customer service team that is available 24/7/365. The PerimeterX team has been fine-tuning this product from day one to solve the challenges that our customers face in protecting their digital businesses.
Future Innovation
Protecting online businesses doesn't stop with bots. We at PerimeterX are on a mission to offer comprehensive protection against bot attacks and client-side threats, performed by automated programs and human attackers, during login, checkout and everything in between. Our team continues to innovate on exciting new ideas that have emerged from our internal product experts, our R&D team on which is the cutting edge of threat research and customer feedback.
Today's digital businesses experience a higher volume of more sophisticated attacks than ever before. But even more significant is that these attacks are more integrated and continuous. One bot attack fuels another, propagating and prolonging an attack lifecycle that hits consumers across properties — and web apps are a prime target. In this era of digital transformation, PerimeterX offers a comprehensive solution to protect the apps that power our daily lives.
I believe that being named a Leader is both a recognition of where we are today and a signal of support for where we are headed. As a cornerstone of the PerimeterX Platform, Bot Defender delivers on our vision to protect users' account and identity information everywhere along their digital journey.